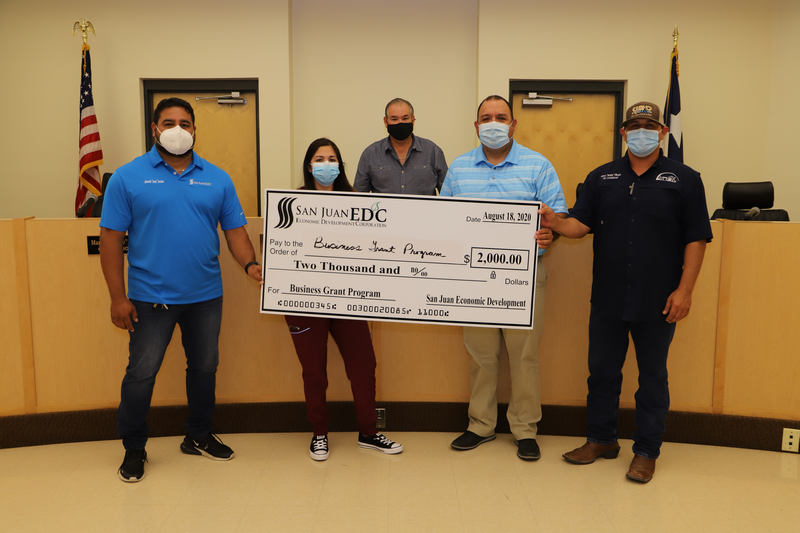 Promotional Expense Mini-Grant
San Juan EDC provides a Grant to all local businesses with a storefront within the city of San Juan which can be used towards advertising and publicity expenses.
The San Juan EDC Mini Business Grant was created to assist small businesses with financial support for a new venture or retention and expansion of existing businesses. Applicants will need to meet the requirements of the Mini-Grant Packet and submit supporting documents. The mini-grant is money that does not have to be repaid, however, the money must be used within the business and for business purposes only.
Mini-Grant requirements for the small business are as follows:
Must have an operating storefront
Must be operating a minimum of 40 hours per week (City or EDC can make random checks for compliance)
Must have at least 1 full-time employee
Must be in good standing with any revolving city loan (if applicable)
Can only be awarded one time per business owner
Business owner applicants are required to:
Attend 1 free training session on business development, provided by the Small Business Development Center (SBDC)
Prepare an executive summary with two-year projections
(Training, executive summary development, and business technical assistance can be obtained at the SBDC.)
All applicant requests are subject to board approval.
Economic Development Sales Tax
Permissible Type-A Projects
Manufacturing and industrial facilities
Research and development facilities
Recycling facilities
Distribution centers
Small warehouse facilities and distribution centers
Military facilities
Port facilities
Operation of commuter, light rail, and commuter buses
Economic Development Sales Tax
Permissible Type-A Projects (cont.)
Primary job training facilities
Corporate headquarter facilities
Job training classes
Career centers
Telephone call centers
General aviation business service airports
Business infrastructure improvements
Economic Development Sales Tax
Permissible Type – B Projects
All Type – A projects; and
Retail business incentives (if the city population is less than 20,000)
Sports and athletic facilities
Entertainment, tourism, and convention facilities
Public parks and related open space improvements
Affordable housing
Water supply and conservation programs (with special voter approval)
Economic Development Sales Tax
Allowable Project Expenditures
Land and facilities improvements
Machinery and supplies
Financial transaction costs
Planning costs
Cleanup costs (requires voter approval)
Administrative expenses
Promotional expenses (10% annual max plus carry-over)
Bonded debt expenses